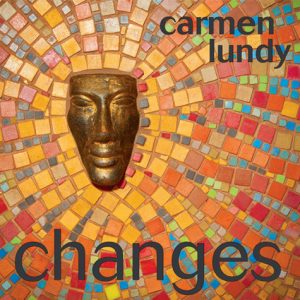 Carmen Lundy's 12th CD release, and one of her finest ever, features 8 new originals composed and arranged by Carmen Lundy, and one lone but standout classic, "A Nightingale Sang In Berkeley Square".
Her core band of stellar musicians – Anthony Wonsey on piano, Kenny Davis on bass, and Jamison Ross on drums – and special guest artists Oscar Castro-Neves on guitar, Nolan Shaheed on trumpet and flugelhorn, and George Bohanon on trombone, round out this superb collection of new songs. Recorded and mixed by the incomparable Don Murray and mastered by the legendary Doug Sax, this album is sure to win over old and new fans alike.
TRACK LISTING:
The Night Is Young
So Beautiful
Love Thy Neighbor
A Nightingale Sang In Berkeley Square
Sleeping Alone
Too Late For Love
Dance The Dance
To Be Loved By You
Where Love Surrounds Us
PERSONNEL:
Carmen Lundy – vocals, harp, string and horn arrangements
Anthony Wonsey – piano, Fender Rhodes
Kenny Davis – bass, electric bass
Jamison Ross – drums, percussion
Oscar Castro-Neves – guitar
Nolan Shaheed – trumpet, flugelhorn
George Bohanon – trombone
Recorded June 13 and 14, 2011 at Castle Oaks Recording Studio, Calabasas, CA. Mixed at G Studios, Laurel Canyon, CA. Mastered by Doug Sax with Robert Hadley at The Mastering Lab, Ojai, CA.
© 2012 Afrasia Productions, Inc.