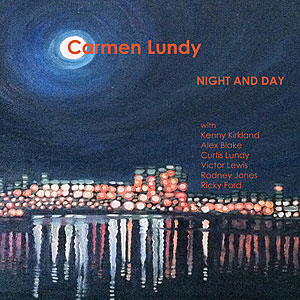 For all those who have been looking for a copy of NIGHT AND DAY, the 1987 release of all standards featuring Kenny Kirkland, the wait is over! Afrasia Productions, Inc. is re-issuing this out-of-print, much sought-after CD. Available for the first time after many years, the album contains the original tracks with new artwork created by Carmen Lundy especially for this reissue.

"This recording has always been one of my favorites. Those were special times for Jazz in the mid 80s in New York City. This record was especially magical because of these incredibly gifted players. I want to thank our beloved Kenny Kirkland, Victor Lewis, Alex Blake, my brother Curtis Lundy, Rodney Jones and Ricky Ford for sharing in the making of this, my first and only recording of all standards."
1. Night and Day
2. Everything Must Change
3. Easy To Love
4. My Old Flame
5. Do Nothing 'Til You Hear From Me
6. Lullaby of Birdland
7. More Than You Know
8. Willow Weep For Me
9. My Shining Hour
10. Everytime We Say Goodbye
PERSONNEL:
CARMEN LUNDY: Vocals
KENNY KIRKLAND: Piano
ALEX BLAKE: Bass & Electric Bass
CURTIS LUNDY: Bass
VICTOR LEWIS: Drums
RODNEY JONES: Guitar
RICKY FORD: Tenor Saxophone
Recorded to SONY PCM 1630 Digital Two-Track at Calibration Recording, New York City, October 21 & 22, 1986. Originally Released 1987. © 2011 Afrasia Productions, Inc.